We krijgen nogal wat berichten over seksualiteit in ons leven. Wanneer deze berichten overwegend een waarschuwende en negatieve toon hebben, dan kan dit je seksuele vrijheid beperken. In dit artikel beschrijf ik hoe je loskomt van deze beperkende overtuigingen.
De dag dat ik seksuele voorlichting kreeg, herinner ik me nog vaag. Zittend op de rand van mijn ouders bed, vertelde mijn moeder dat seks bedoeld is om je voort te planten en daarom enkel voorbehouden voor je levenspartner. Een boodschap die regelmatig herhaald werd in de religieuze omgeving waarin ik opgroeide.
De verboden vrucht
Op mijn dagelijkse wandeling naar school, passeerde ik een kleine seksshop. Nieuwsgierig als ik was, gluurde ik graag even naar binnen. Achter de twee ramen lagen kleurrijke attributen uitgestald en op de roodpluche achterwand prijkten foto's van schaars geklede dames in latex en leer. Een schande, vonden de mensen uit onze kerkgemeenschap. Dus haalden ze alles uit de kast om de etalage te verbieden. Zonder succes.
Hoe meer mijn ouders hun best deden om seks buiten de deur te houden, hoe meer ik me er toe aangetrokken voelde. Een spannende, onbekende wereld vol verleiding, waarin ik mezelf helemaal kon vinden en verliezen. Als Eva die niet kan wachten om een hap uit de appel te nemen.
Beperkende ouderboodschappen

Bij de ontdekking van je eigen seksualiteit kom je als homoseksuele man veelal in een loyaliteitsconflict met de normen en waarden die je van huis uit hebt meegekregen. Over seks praten we niet, seks is iets tussen een man en een vrouw, seks is iets exclusiefs, en soortgelijke overtuigingen. Want we krijgen in ons leven nogal wat boodschappen mee over seksualiteit. Wanneer deze boodschappen een overwegend waarschuwende en negatieve toon hebben, voelt dit als een beperking in je seksuele vrijheid en plezier.
Hoe bevrijdend vond ik het toen ik leerde dat deze seksuele preutsheid niet van alle tijden is. Neem nou de Grieken en Romeinen1. Zij hadden een relatief open en tolerante houding tegenover seksualiteit. Voor de Grieken was het genieten van seks een van de belangrijke dingen van het leven. De liefde voor twee mannen was even gewoon als de liefde tussen een man en een vrouw.
Met de komst van het Christendom, veranderde ook de houding tegenover homoseksueel gedrag. Een geleidelijke verandering die vanaf de middeleeuwen verregaande gevolgen had. Waarbij de inquisitie in 1233 bepaalde dat homoseksuelen konden worden vervolgd, gemarteld en geëxecuteerd. Iets wat helaas vandaag de dag in zo'n 70 landen nog steeds het geval is.
Een blijvende ontdekkingstocht
In elke fase in je leven kan deze ontdekkingstocht weer opnieuw aangewakkerd worden. Het ontdekken en leren kennen van je eigen mannenlijf. De stiekeme, vluchtige ontmoetingen voorafgaand aan je coming-out. Je eerste langere relatie. Het moment waarop de sjeu uit je relatie is en je een derde uitnodigt om de spanning terug te brengen. Of wanneer je besluit om je fantasieën werkelijkheid laten worden door een van de vele fetisjen te onderzoeken. Het aangaan van relaties gaat over het ontdekken van je grenzen. Elkaar ontmoeten op de grens, daar waar we het kwetsbaarst zijn. Freud noemde seksualiteit dan ook wel het bibbergebied.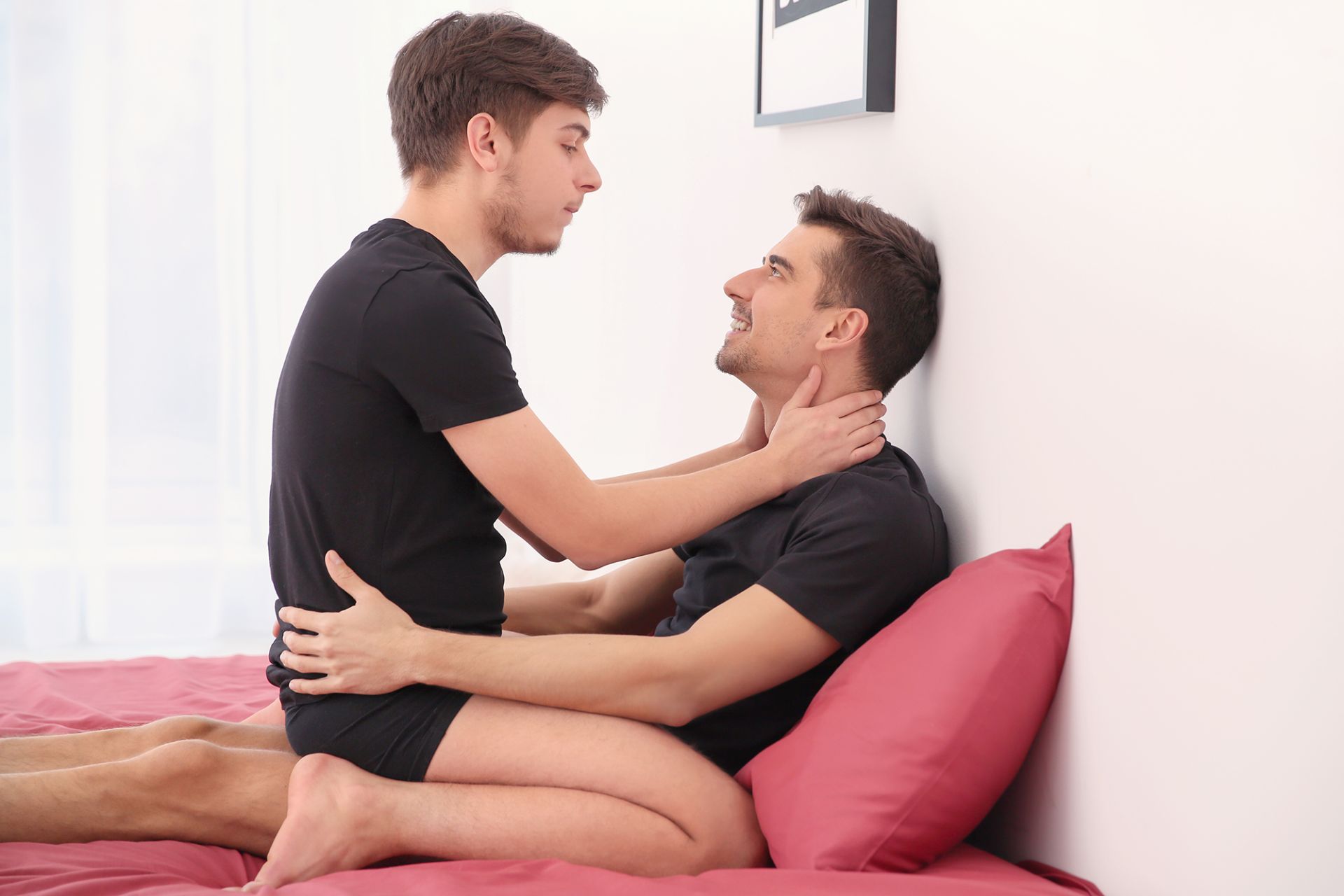 In deze ontdekkingsreis loont het om jezelf te bevrijden van beperkende ouderboodschappen. Onderzoek je overtuigingen over seks en vraag jezelf af wat je hier eigenlijk zelf van vindt. Welke overtuigingen zijn van jou en welke heb je onbewust overgenomen van anderen. Geef jezelf de ruimte voor je eigen kijk op seksualiteit. Zo creëer je ook ruimte voor nieuw gedrag.
Voorbeelden van permissies die je jezelf kunt geven:
• Ik mag genieten van mijn eigen lijf
• Ik mag genieten van seks
• Ik mag aangeven wat ik fijn of lekker vindt
• Ik mag mijn eigen seksualiteit ontdekken
• Ik mag mijn eigen kijk op seks hebben
Je kruipt in bed bij je partner en niet bij je ouders. Zolang beperkende ouderboodschappen grip op je hebben, remmen ze je af in de relatie met de ander. Dus gooi de rem eraf, experimenteer, stel je eigen grenzen, geniet en vind elkaar voorbij de schaamte.


1 Bron: Van alle tijden, in alle culturen – wereldgeschiedenis van de homoseksualiteit, Robert Aldrich
Created with